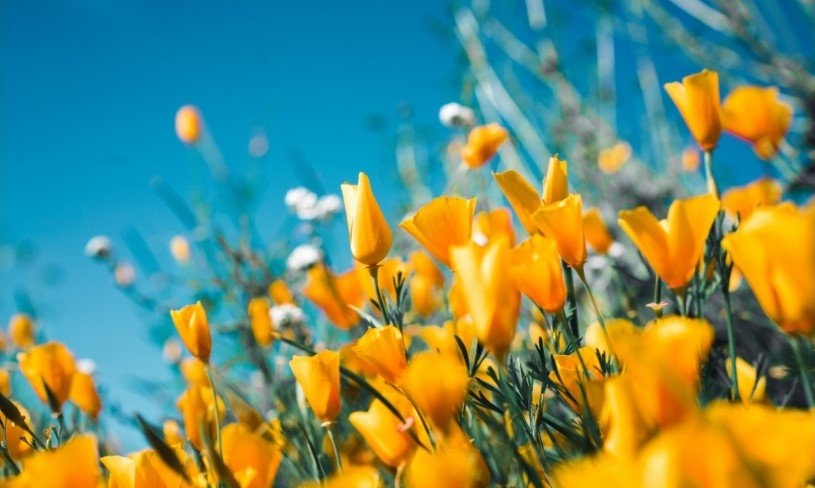 LAURA ARLENE KRIEGER passed away peacefully on July 15, 2022 at the Park Village Health Care Center in Dover, Ohio. Arlene, as she was known to family and friends, was born in Fulton County, Ohio on May 18, 1923 to parents William Joseph and Laura Elizabeth (Mattin) Cooper. She grew up in Delta Ohio and moved to Toledo where she worked as a secretary for a time. It was there that she met Clarence "Clem" Krieger whom she married on Dec 22, 1950.
Arlene was preceded in death by her love, Clem, daughter Carole Jo Krieger (Parker), granddaughter Darcy Krieger, as well as sister Wilma Jo Shanks and little Taffy. She is survived by children Craig R.(Lucy) of Manitowoc WI, Mark (Gayle) of Delaware, OH, son-in-law Michael Parker of New Philadelphia (via Chesapeake, VA), Michele (Mike) Hubble of North Canton, and Kevin (Kendra) of New Philadelphia. She is also survived by grandchildren Amanda Feutz of New Philadelphia (via Chesapeake VA), Michelle (Graham, daughter Miette) Weber of Austin TX, Ben Hubble (children Maddie, Ethan and Macie) of Bucyrus, OH, Rachel (Shawn) Cunningham of Marysville, Ricky (Ariel Mann) of Columbus, Claire Krieger (Chris Volkert) of Port Washington, WI, and Scott of Cleveland.
As a mom, she allowed her kids to forge their own ways. They argued and fought as siblings do, but they learned to sort things out among themselves and to become supportive of each other. One of her lines was that if there was no blood, the car didn't stop, and she pretty much meant it. She would tell you there were times when she seriously wanted to just run away herself, but she never did. She was always there to pick them up and offer her love and support, no matter how hard the fall. She viewed everyone she met as a friend and kindly welcomed any and all of her kids' friends into her home. She & Clem treated their in-laws with the same affection as their own children. To quote her son-in-law Michael, "The world would be a better place if there were more Clems and Arlenes." Isn't that the truth!
As a teacher, education and literacy were passions for Arlene. Her grandchildren recall how supportive and encouraging she was when it came to their trying new things. She encouraged a love of music and took piano lessons while her granddaughters took theirs. There were bird watching books to learn what birds were seen or fed. There were books and educational magazines everywhere around her house. But her passion reached further than that. Not only did she promote reading and learning among her grandchildren, but she earned her Bachelor's and Master's degrees in Education from Kent State University and was a member Kappa Delta Pi International Honor Society in Education. She was also a founding member of the Tuscarawas County Friends of the Library and eventually the director of Ohio's State Friends of the Library organization. Additionally, she held active memberships in the Chestnut Society at KSU's Tuscarawas branch campus, the American Association of University Women, the Child Conservation League, and the Tuscarawas County Historical Society, among others. She even taught knitting and crocheting through an adult education program and continued her own education by participating in an investment club for a brief time.
Despite the fact that hundreds of individuals throughout the area know that she was a teacher in the New Philadelphia school system for a number of years, what they probably don't realize is that she never applied for the job and she started teaching a year before she received her teaching credentials from Kent State University. It's probably safe to say that her students found her to be tough, but fair. She recognized that she needed to teach a rigorous curriculum in order to best prepare her students for what she knew they would inevitably face in their future educational endeavors. Many returned to thank her as they found themselves more than ready to take on the academic challenges of high school and college.
Most who knew her also knew that she loved to travel. Her travel experiences took her to numerous states and all seven continents. Her first tour in the early 70's took her to Kiev when it was still part of the USSR. She returned a couple years later with Clem. His impression was that it was" interesting" and yet decided travel was not for him. Consequently, her fellow teacher and friend Molly Doughten (and a couple of her kids) accompanied her on subsequent journeys. Her last travel adventure took her on a cruise to Antarctica via South America at the ripe old age of 84. As was common for Arlene, she did not return from her trip unscathed. She was thrown across her stateroom during a storm and returned with a cracked rib. The route that was most, though, was the one leading to Pellston and "The Lake" in northern Michigan where her folks had several rental cottages on Douglas Lake and her family vacationed annually. Many great memories were made and lifelong friendships forged there.
A select few, including family friend Homer Richards, may know that Arlene was an early morning swimmer at the YMCA. She also took a course in golf, was a league bowler until her shoulder gave out, and, as was recently revealed by other relatives, she played basketball as a young girl. (Who knew?!)
It isn't a secret that Arlene suffered from non-Alzheimer's dementia. Fortunately, she led a contented life as her dementia progressed. She turned 99 on May 18th. That didn't happen without a lot of care and support. Her family would like to take this opportunity to thank those who did for our mom what we were not able to do. Thank you to the administration and staff at Park Village Health Center in Dover for 14 years of safety, love, care and compassion you showed our mom. Thank you to Emmanuel Lutheran Church for always remembering Mom with cards, goodies, gifts and visits throughout these past many years. Also, thank you to Cassie and Community Hospice for keeping us up to date on Mom's health and well being throughout the months of Covid-19 when we were not permitted to visit, and for seeing her comfortably through these last few difficult weeks. You are all special people and there are no words to express how grateful we are for what you have given to our mom. You are greatly appreciated.
Calling hours will be held Wednesday July 20 at Linn-Hert-Geib Funeral Home, 116 2nd St, NE, New Philadelphia, OH from 4:00-6:00 p.m. A 10:00 a.m. graveside service will be held on Thursday, July 21 at Ridgecrest Memory Gardens in Dover. In lieu of flowers, donations may be made to New Philadelphia Friends of the Library via the Tuscarawas County Main Library, 121 Fair Ave, NW, New Philadelphia, OH 44663. (Checks should be made out to Friends of the Library)
The post L. Arlene Krieger appeared first on Geib Funeral Home & Crematory.