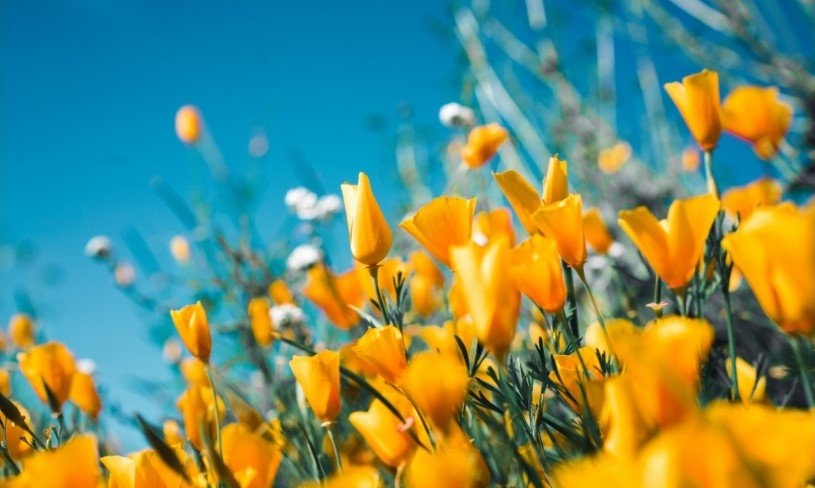 Dorothy Jo Osborn, loving wife, mother, grandmother, and great-grandmother, blessed the people she met and the people she loved. She never stopped looking for ways she could help others and somehow make the world a better place. Dorothy Jo passed away on March 2, 2021 at the age of 96.
Dorothy Jo, the daughter of Roxie Alberta Laughlin Earp and Earl Bernard (Doc) Earp, Sr, was born on May 17, 1924, in Glen Rose, Texas. She lived with her parents and her beloved older brother, Earl, Jr., in Rivercrest Park on Barnard Street. Her family gave her the nickname "Wee." On Easter, 1933, when she was eight years old, Dorothy Jo joined the Methodist Episcopal Church. She had 8 years of perfect attendance in Sunday School (1933-1940), earning an attendance pin every year.
In 1940 Dorothy Jo was selected as the sweetheart of the Glen Rose High School football team and then graduated in the spring of 1941. She attended Tarleton State College for several semesters. Dorothy Jo lived on campus and worked in the cafeteria and at the airport where she learned to fly an airplane. On Christmas Day, 1942, she married the love of her life, Garland Hurchel Osborn, in the home of Dr. and Mrs. E. B. Earp. The Rev. Jerry Osborn performed the ceremony. After moving to Fort Worth, Garland joined the Army Air force as a navigator. Dorothy Jo moved with him to Iowa, California, Louisiana, Nebraska and Florida, working for a publication bureau and in a variety of secretarial positions. Garland and Dorothy Jo made friends easily. They loved to dance and to play bridge, cribbage, and 42.
After the war, Garland studied mechanical engineering at the University of Texas, while Dorothy Jo worked in the ticket office of the Athletic Department and cared for their son Garland Hurchel, Jr. The couple lived in Houston until 1953 when they moved to Edmonton, Alberta, Canada, where they established Osborn Engineering Sales, Ltd.
Dorothy Jo made wonderful lunches for her children to take to school on cold, winter days in Edmonton, Alberta. She packed the lunch boxes with sandwiches, cookies, apples, oranges, carrot sticks and celery sticks. Her children joked that the only time their mother sat down was when she was having coffee or tea with a neighbor. Her favorite hymn was "Trust and Obey." In her thirties she took piano lessons and practiced playing "Church in the Wildwood" over and over and over.
In 1973 Dorothy Jo and Garland returned to Glen Rose, Texas, to retire. Dorothy Jo taught Sunday school at the Methodist Church for the junior high school students with Delia Seal and worked in the Thrift Store with Sarah Luttrell for 18 years. She was a long-standing member of the Eastern Star and in 1985 she served as president of the United Methodist Women. For the last ten years of her life, Dorothy Jo was an active member of New Prospect Baptist Church, Nemo, where her son-in-law, Dr. John William Turner, is pastor. Dorothy Jo had many friends throughout the United States and western Canada. She was known for her faith, wisdom, clear memory and thoughtfulness. Her children, grandchildren, and great-grandchildren were the passion and light her life.
Dorothy Jo was preceded in death by her husband, Garland, and her son Garland Hurchel, Jr; by her parents and her brother, Earl Bernard Earp, Jr. She is survived by her three children: Roxie Turner and her husband, John; Viola Osborn; and Thomas Lloyd Osborn and his wife, Marcia; by her five grandchildren: Amanda Bush and her husband, Phillip; Virginia Georges and her husband, David; John Osborn Turner and his wife, Amy; Thomas Turner and his wife, Sarah; and Rebekah Garver and her husband, Shawn; by her fifteen great-grandchildren: John Daniel Georges, Dorothy Jane Georges, Kaili Georges, Jack Georges, Joshua David Georges, Eden Turner, Elysea Kay Turner, Lorien Turner, Gracie Turner, Jessi Turner, John Osborn Turner, Jr, Beatrice Bush, Presley Lane Turner, Wyatt Garland Turner, and RayLynn Garver; by her nephew, Earl Barnard Earp, III, his wife Jann, and their children, Phelan Irl and Morgan Sue; and by her many nieces, nephews and cousins. We cherish our memories of Dorothy Jo. She will be missed.
In lieu of flowers, the family asks for donations to be made to Father's House Educational Foundation, P.O. Box 3099, Glen Rose, TX 76043. Online donations may be given at: www.fathershousefoundation.com. In the comments section of the donation, mention the Dorothy Jo Osborn Memorial.
A graveside service for family and church will be held on Friday, March 5 at 2:00 pm, in Squaw Creek Cemetery.
To Dorothy Jo, family included many friends, so all are welcome. If you need a chair, please bring one with you.
A celebration of Dorothy Jo's life will be held at the Senior Citizens' Center in Glen Rose on Saturday, May 29, 2021.