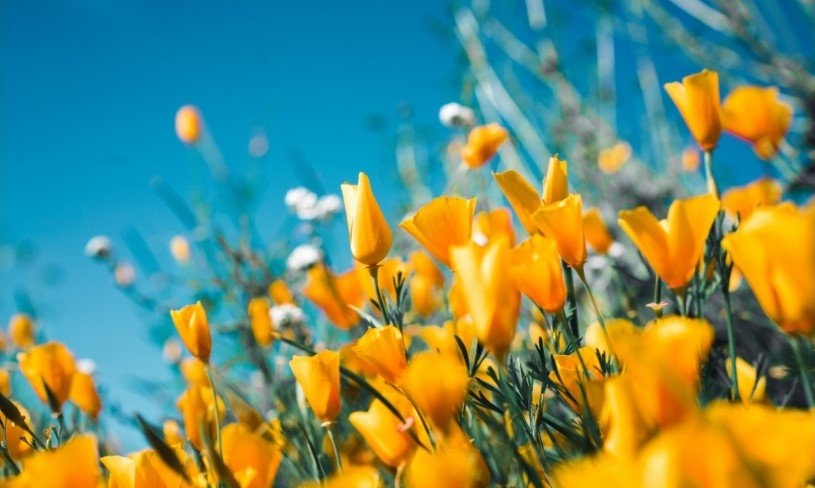 Jean Derrick Hoffman
October 18, 1925 – July 14, 2021
Jean Marie Derrick Hoffman was born to Rue Verner Derrick, Sr. and Ella Lucille Derrick nee Connaway on October 18, 1925, in Waco, Texas.  Her earthly journey ended Wednesday, July 14, 2021, in Granbury at 95 years of age.  The first five years of Jean's life during the Great Depression were spent on the family farm in Hood County and deeply affected her value system where she learned the importance of hard work and care for the land.  The economic realities of the times forced her family from the farm back to Waco where Jean attended and graduated from Waco High School in 1943.
Jean graduated with a bachelor's degree from North Texas State Teachers College in Denton (now University of North Texas).  While at North Texas, Jean met and married the love of her life, Claude Elliott Hoffman.  They remained in Denton while Claude completed his undergraduate degree in journalism.  After a brief time in Austin where Claude earned his master's degree in Education from the University of Texas, they moved to Corpus Christi to begin their teaching careers and to start a family.  Sons Robert Clark and Paul Derrick were born during their time in Corpus Christi.  Jean continued her academic pursuits earning a master's degree in Education from North Texas State University.  Jean's teaching career in Corpus Christi included four years at WB Ray High School and twenty-two years at Del Mar College where she taught courses in business and economics.  During her tenure at Del Mar College, Jean served as chair of the Business and Economics Department.  In 1985 Jean was honored to serve as president of the Texas Business Education Association.  She was a life member of the Retired Teachers Association.  Jean and Claude moved back to Hood County in the mid '80s to care for her parents.  During this time, Jean built her dream house on the family farm where friends and family often gathered for fun and fellowship.
Jean's passion for the land was inherited from her parents who were among the earliest settlers of Hood County.  Jean's mother, Ella Lucille Connaway was the great-granddaughter of Pleasant Thorp who founded Thorp Spring and provided the land and buildings for Add-Ran College which later became Texas Christian University in Fort Worth.  Jean's ancestors were also leaders in the development of an agricultural economy in the region.  Her family's business interests ranged from ranching to growing and milling sorghum to ginning cotton.  As a result of Jean's continued dedication to the land, The Derrick Hoffman Farm was honored to be selected for the Family Land Heritage Program by the Texas Department of Agriculture at a ceremony at the State Capitol in Austin.  Her stewardship of the land has been an inspiration to her family and to the community at large. Jean's legacy will be her shared love of the land.
Since returning to Hood County, Jean served as deacon and elder of First Christian Church of Granbury.  She was proud to be inducted into membership of The Daughters of the Republic of Texas.  Jean was a life member of the Woman's Wednesday Club and participated in several local bridge circles. The Senior Circle and the Senior Center of Granbury provided activities that Jean thoroughly enjoyed.  Her five college sorority sisters were dear to her heart and remained lifetime friends.
Jean is survived by her sons Robert Clark Hoffman and wife Courtney of Austin and Paul Derrick Hoffman and wife Renee of Hood County; grandchildren Faye Ellen Hoffman Hilpert and husband Mark Hilpert of Raleigh, North Carolina, Katherine Jean Hoffman and husband Robert Lindsey of Austin, Texas, Clark Read Hoffman and wife Morgan Hoffman of Frisco, Texas;  great-grandchildren Annie Hilpert, Liana Lindsey and Asher Lindsey; niece Elizabeth Anne Dunnihoo of Granbury; and numerous cousins, nieces, and nephews.  Jean was preceded in death by her parents Rue and Lucille Derrick, her husband Claude, her nephew Ronald Derrick and her older brother RV Derrick, Jr.
A memorial service for Jean will be held on Saturday, August 21, 2021 at 11AM at First Christian Church of Granbury.  For those who wish to make a donation in Jean's honor, please consider First Christian Church of Granbury or a charity of your choice.
Jean sought to live a plain, simple life and loved her life on the family farm. She had a steady faith that was grounded in love of God's creation. She sought to be a good steward of the earth. Her motto was: "Protect the land; take care of the land; improve the land."  She did all three.